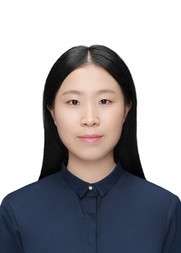 姓名: 钱梦丹
性别: 女
学历: 博士研究生
职称/职务: 讲师
E-mail:qianmengdan@htu.edu.cn
所在研究所/科室: 光学工程研究所
研究领域:
1. 微纳结构的热辐射调控
2. 有机微纳光电器件的制备和应用
学习经历:
2010.09-2014.07河南师范大学 化学学院 化学 学士
2014.09-2017.07吉林大学 化学学院 物理化学 硕士
2017.09-2020.07吉林大学 电子科学与工程学院 物理电子学 博士
工作经历:
2020年10月至今,河南师范大学物理学院,讲师
教学工作:
主讲《大学物理》课程
主要论著:
(1). Meng-dan Qian, Yun-lu Sun, Zhi-yong Hu, Xiao-feng Fang, Jin-long Zhu, Xudong Fan, Qing Liao, Chang-feng Wu and Hong-bo Sun. Fluorescent Chemo-sensors Based on "Dually Smart" Optical Micro/nano-waveguides Lithographically Fabricated with AIE Composite Resins. Mater. Horiz. 7, 7, 1653, (2020).
(2). Meng-dan Qian,
(3). Meng-dan Qian, Ya-ming Shan, Shan-shan Guan, Hao Zhang, Song Wang, Wei-wei Han. Structural basis of fullerene derivatives as novel potent inhibitors of protein tyrosine phosphatase 1B: insight into the inhibitory mechanism through molecular modeling studies. J. Chem. Inf. Model. 56, 2024-2034, (2016).Wei-ying Hou, Dan-dan Chen, Xiao-song Li, Qi-dai Chen, and Chang-feng Wu. Metalloporphyrin loaded semiconducting polymer dots as potent photosensitizers via triplet-triplet energy transfer. J. Photochem. Photobiol., A. 383:11198, (2019).
(4). Meng-dan Qian, Shan-shan Guan, Ya-ming Shan, Hao Zhang, Song Wang. Structural and molecular basis of cellulase Cel48F by computational modeling: insight into catalytic and product release mechanism. J. Struct. Bio., 194 (3), 347-356, (2016).